Cats, much like humans, deserve some pampering every once in a while. If you're residing in Brooklyn and are eager to treat your feline friend, you might be wondering about the various services available for cat grooming. Look no further! We're diving deep into the world of Cat Spa Services, giving your beloved pet the relaxation and care they deserve.
Understanding the Importance of Cat Grooming
Why Bother with Grooming?
Some might believe cats groom themselves, and while that's true, professional grooming can offer benefits that at-home grooming can't. By opting for Cat Spa Services, you're ensuring that your cat is in the hands of professionals trained to handle, pamper, and care for them. Moreover, these experts have a keen eye for details and nuances we might miss. They bring years of experience, ensuring that even the most finicky cats have a delightful grooming experience.
Health and Well-being
Routine grooming can reveal hidden health issues. Lumps, bumps, infections, or parasites like fleas and ticks may go unnoticed without regular grooming. A professional groomer will be trained to spot these concerns early. Beyond this, they can provide insights on dietary needs or skin conditions affecting your cat, bridging the gap between grooming and overall well-being.
The Delight of Cat Spa Services
Sanctuary of Relaxation
Think of Cat Spa Services as a retreat for your feline friend. It's not just about making them look good but also ensuring they feel good. It's a sanctuary of relaxation, offering your cat a break from the everyday hustle and bustle. The ambiance, combined with the gentle hands of our groomers, provides a serene environment, making your cat's spa day a rejuvenating experience.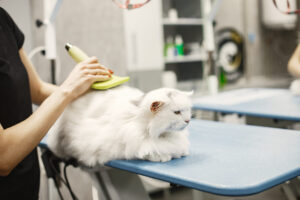 Cat Spa Services: A Sanctuary of Relaxation for Your Feline Friend
Whether it's to reduce shedding, ensure healthier skin and coat, or simply to pamper, Cat Spa Services has evolved to provide your feline friend with the care and attention they need. Beyond the obvious aesthetic benefits, these services promote overall well-being, helping your cat feel as good as they look. By prioritizing your cat's comfort and needs, we elevate the grooming experience to a luxurious treat.
Bathing Services for Cats:
Reduce Shedding and Skin Irritation: A proper bath can help remove excess fur and reduce potential skin irritations. Furthermore, specialized shampoos tailored to your cat's needs can soothe underlying skin conditions, ensuring a soft and lustrous coat.
A Cat Bath that is Fun and Relaxing: Gone are the days of stressful cat baths. Your feline can truly enjoy this experience with the right environment and techniques. Our spa uses calming music and aromatherapy to put your cat at ease, making bath time a joy rather than a chore.
Safe and Comfortable Nail Trimming: Overgrown nails can be a hazard. Regular trims can help prevent accidental scratches and keep your cat's paws healthy. Our tools are sanitized and sharp, ensuring a swift and painless cut, making the experience comfortable for your beloved pet.
Calm and Relaxed Grooming Environment: The key is to provide an environment where your cat feels safe. Pet Grooming at its finest ensures minimal stress during sessions. Healthy and Reliable Deshedding Techniques: Regular de-shedding can help reduce hairballs and promote a healthier coat.
Healthy and Reliable Deshedding Techniques: Regular de-shedding can help reduce hairballs and promote a healthier coat.
Groomers with Over 20 Years of Experience: Experience matters. With expert groomers, your cat is in safe and skilled hands.
Cat Day Care Services:
Gone are the days when pet owners had to stress about leaving their feline friends at home. Cat Day Care Services are here to make your life, and that of your feline friend, easier. Choosing the right daycare for your cat is crucial as you would for a child.
Safe and Supervised Environment for Cats: Our facility ensures your cat's safety with trained professionals closely monitoring all interactions.
Opportunities for Feline Socializing: While cats are often seen as solitary creatures, many enjoy the company of their peers. Regular socialization can enhance their well-being.
Physical and Mental Stimulation for Cats: Activities and toys keep your cat active and stimulated throughout the day.
Individualized Attention: Understanding that every cat is unique, the staff takes time to cater to individual needs.
Convenience for Owners: Flexible drop-off and pick-up times are available to fit your busy schedule.
Stay in Touch: Regular updates, along with pictures and videos, keep you connected with your feline friend, ensuring they're having a great time.
Pet Grooming Services for Cats:
Shampooing and Bathing: Cats get the best, soothing bath experience with high-quality, eco-friendly products.
Hair Cut and Hair Styling: Professional groomers ensure your cat looks their best with trims tailored to their needs.
Nail Trimming: Regular trimming prevents overgrowth and ensures your cat's paws remain in top condition.
De-Shedding Treatment: For cats with a tendency to shed, specialized treatments can help maintain their coat's health.
Ear and Dental Hygiene: Regular check-ups and cleanings help prevent potential health issues.
Other Spa Services: Your cat deserves a full spa day! Treat them to facials, paw treatments, and more.
Choosing the Right Cat Spa Services
When looking for the best Cat Spa Services in Brooklyn, there are some considerations:
Recommendations: Word of mouth can be the best indicator.
Visit Beforehand: Before booking an appointment, it's a good idea to visit the place, ensuring it's clean and cat-friendly.
Ask About Products: Ensure that the products used are cat-friendly and high-quality.
Training of Staff
One of the most crucial aspects is ensuring the staff is well-trained. After all, they'll be handling your precious pet. Staff should be knowledgeable, patient, and passionate about their work.
Inspiration to Pamper Your Cat
We often get caught up in our daily routines, taking the relaxation rituals we afford ourselves for granted. These little luxuries significantly impact our well-being, from massages to hair appointments. Isn't it time we offered the same for our feline friends?
By opting for Cat Spa Services, you ensure your cat gets the care, relaxation, and attention they deserve. It's not just a luxury; it's a testament to the love and care you hold for them.
Conclusion
Cats are more than just pets; they're part of the family. They comfort us in our low moments, entertain us with their quirks, and fill our homes with love. Investing in their grooming and relaxation isn't just about aesthetics but their overall health and happiness.
Look no further for those in Brooklyn seeking an exceptional grooming experience for their feline friends. Cat Spa Services at Brooklyn Pet Spa will provide your cat with the ultimate relaxation and grooming experience they deserve.